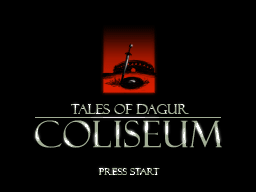 As you all might have noticed, Tales of Dagur: Coluseum was not released on the neoflash summer coding competition.
There are several reasons that prevented us from release:
The Jim Interpreter used as a scripting engine was full of memory leaks and wasn't stable for use as a main scripting engine. After weeks of debugging, I simply gave up and switched to Arena, which is working great. I had to re-write most of the scripts to the new language which took me a lot of time.
I was a single coder. Even though I had two of my friends helping me on this project code-wise (DarkEz and strager), they were both missing most of the time for personal reasons.
There was too much to code and test, and I did not have enough testers and helpers on this project, even though I have been asking many times for people who wants to contribute.
All I can offer now are screenshots from the 'final' piece which will not be released for you until further notice. I Thank you, DS scene, for your "help" and "support" for this project, that brought it to be what it is now – nothing. I would also like to thank my current team – for their great effort and willingness to push this project to it's edge when the deadline was approaching even though we knew we had no chance of making it.
Enjoy the screenshots, I hope you now understand what potential this game could have if I got a little more help.