I hereby this post, announce on the scheduled release of Tales of Dagur: Colosseum planned for 20th August (NeoFlash Summer 2007 Competition).
The game will be a completely playable demonstration of the battle system – based on ALMBS (Aggressive Linear Motion Battle System).
Of course we are far from complete, and we still need help if we want to be able to make the game as good as we plan on doing.
If you want to help, in any way you think you can, please consider contacting me in one way or another. If you want to meet the current development team, or stay updated in the latest of our ideas and suggestions, you are more then welcomed to join #ToD2 over EFnet – where the team is always active, and releases daily output from nearly every aspect.
What we really need currently, is mostly co-coders and story writers.
Just to tease you with what we have currently, I will throw some concept art over your direction:
–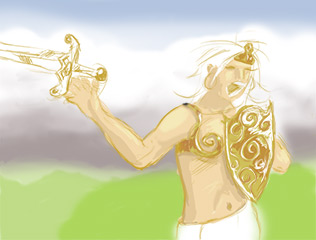 –

Images are copyrighted to drZool and the ToD team.